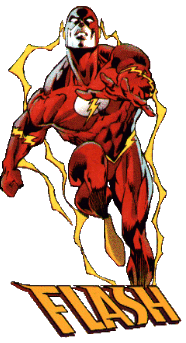 As reported at Cinescape: "After completing the latest adventure in the BLADE series of films, writer/director David S. Goyer has inked a deal that will see him write, direct and produce a feature film based on DC Comics scarlet speedster, THE FLASH, for Warner Bros.

The news was announced today in the pages of Variety but it was first scooped by Ain't It Cool News last month where a scooper said Goyer was in 'the very early stages' of talks. Apparently those talks have been signed, sealed and delivered.

'FLASH is my favorite of the properties,' Goyer said to Variety. 'I think the character of the Flash, who moves faster than the speed of light, opens itself up to rich cinematic and story ideas.'

There's also been rumblings from BLADE: TRINITY actor Ryan Reynolds that he wants to play the Flash. 'I just think it's an interesting character, and with today's technology, you could do something that hasn't been done yet in the comic book world,' Ryan told the Akron Beacon Journal. "