On The Magic Box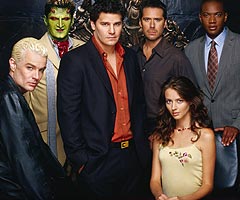 Angel
is flying high, with last week's Halloween Party episode (5.5) scoring many points and this week's episode (5.6) about a retired hero/Mexican wrestler sounding like a hoot. Check out the advance review on
AICN
. And just for fun, here's a
link
to the BBC's mock "Wolfram and Hart" law firm page. Check out their Careers page:
"While we recognize that it's impossible to meet all of our demands without sacrifice, we pride ourselves on being able to offer you a long future with us. "
24 Season 3
Not so happy with the first two episodes of theperenniall favorite - the tension is lacking and it was a mistake to hamstring the show's two lead characters with weakened medical conditions. Here's hoping the show picks up the pace before too long - or no one will care about anything except the outbreak of boredom.
WEE TIDBITS OF NEWS: Skin Cancelled
Fox pulled their intriguing Romeo and Juliet update from the schedule after rapidly-declining ratings sealed its fate. Thankfully, they were able to replace the thoughtful soaper with the schlocky reality series
Joe Millionaire 2
. This follows on the heels of several other cancellations:
Coupling, The Brotherhood of Poland, NH and Luis
. More to come, I'm sure...
Alias.
TV Guide is reporting that Will will be back..."Alias hunk Bradley Cooper will reprise his role as Sydney's best bud Will in the Dec. 7 episode, TV Guide Online has learned. Word has it, Syd retrieves Will from witness protection and the two go on a big adventure together."
Jake 2.0
TV Guide is reporting that the quirky superhero show that follows
Enterprise
has been picked up for the full season.